Processor
Raspberry Pi 4 (Broadcom BCM2711, Quad core Cortex-A72 (ARM v8) 64-bit SoC @ 1.5GHz)
RAM
2GB
Storage
64GB on MicroSD Card
Frequencies
EU868 Version: 863MHz to 870MHz
Sensitivity
-125dBm @125KHz/SF7
-139dBm @125KHz/SF12
TX Power
26dBm max.
Antenna gain

EU868: 2.8dBi

Antenna Impedance
50 Ohms
antenna type
Omnidirectional
Wireless
2.4 GHz and 5.0 GHz IEEE 802.11ac wireless
Bluetooth
Bluetooth 5.0, BLE
LoRaWAN
Class A, C
Supply voltage
DC 5V – 3A (consumption 5W)
interfaces
1 USB Type-C (USB power supply included)

1 Ethernet RJ45 (internet connection)

1 RP-SMA Female (antenna connector)

Operating temperature
0°C to 50°C
Operating humidity
0% – 90% (non-condensing)
heat dissipation
With aluminum case, heat sink and cooling fan
IP-grade
IP20 (for indoor/indoor hotspot use)
Certificate
CE RED, Rohs and FCC, 1 year warranty (see below)
The Sensecap M1 miner is designed for indoor use, outdoor use is possible provided it is placed in a waterproof case (without condensation) and with an operating temperature between 0°C and 50°C.
The characteristics of the M1
Quick and easy configuration to the helium network. 6 steps, 5 minutes, ready to go
Powered by Raspberry Pi 4 (2GB or 4GB RAM) and Semtech SX1302/SX1303 LoRa chip
Secure and reliable with embedded ECC608 crypto chip
Automatic firmware updates online (OTA), without manual intervention
Remote diagnosis and online support via Seeed/SenseCAP
Large storage capacity of 64 GB via 64 GB MicroSD card
Efficient cooling via aluminum case with a heatsink and cooling fan inside
Online dashboard for tracking Sense CAP hotspot(s):

https://status.sensecapmx.cloud/

Turbo Sync function to update the blockchain very quickly
Bluetooth, Wi-Fi and ethernet
Included the $40 for the first registration of the miner on Helium and its location (then the cost of changing the location of the hotspot is $10, to be paid in crypto HNT)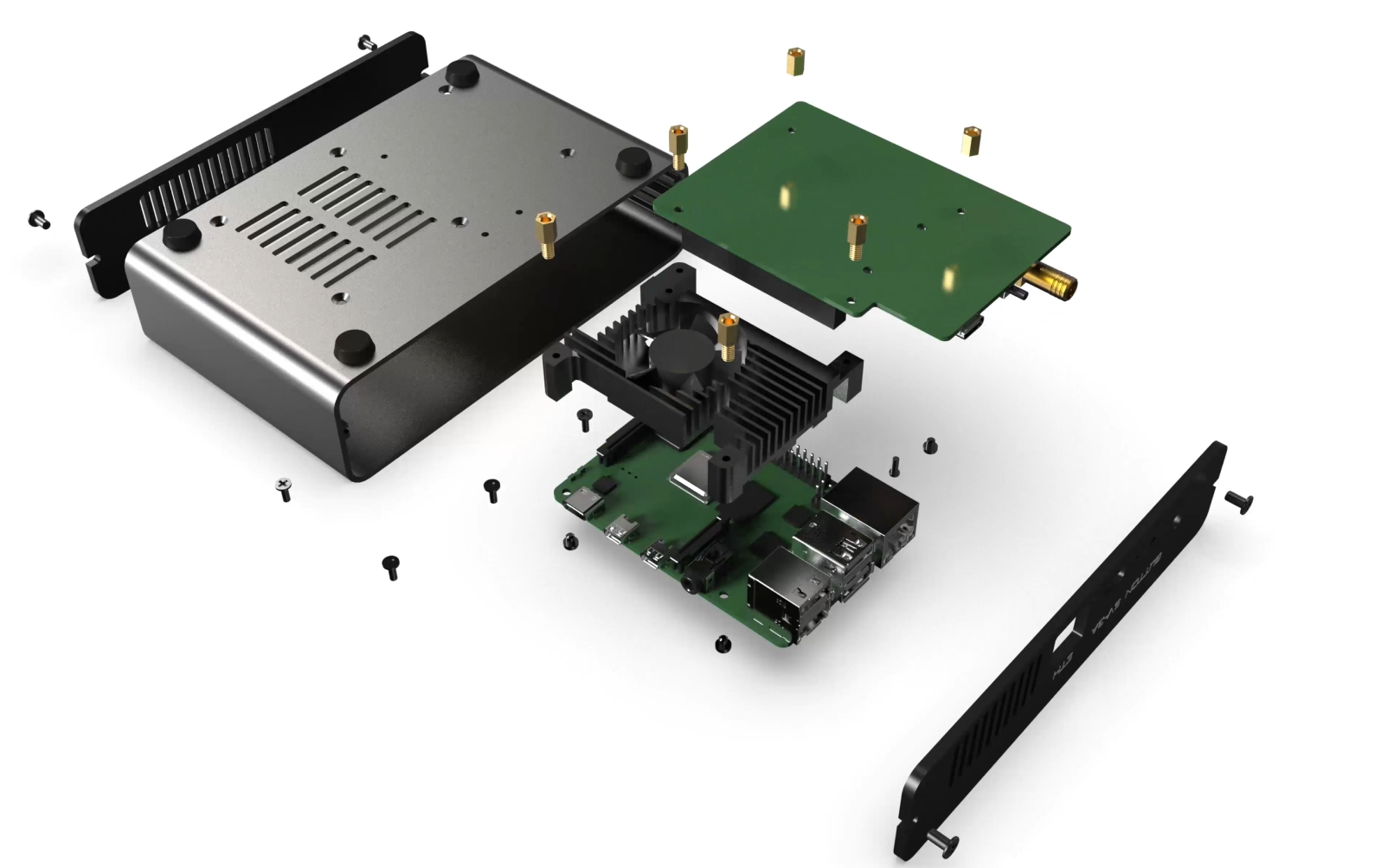 What type of antenna and connectors for SenseCAP?
To obtain the best possible performance depending on the location of your installation of the Helium M1 miner, it is recommended to put an antenna installed outdoors, as high and unobstructed as possible over 360°.
The use of an antenna actually tuned to the frequency band used by the Helium network is also recommended, such as our antenna model tuned to 868-869MHz of 4dBi . This antenna is with a female N connector.
The SenseCAP M1 hotspot is equipped with a female RP-SMA connector, not to be confused with an SMA connector. That of the M1 is an RP-SMA (Reverse SMA), that is to say that the central pin is reversed compared to the classic SMA connectors. You must choose a male RP-SMA connector to be compatible with the SenseCAP.
To connect the recommended antenna directly to the M1 miner, the cable to be used must have a RP-SMA male connector on one side (to go to the M1) and an N Male connector on the other (to go on the antenna).
We recommend using a KSR400 low-loss coaxial cable (LMR400 equivalent), of the shortest possible length depending on your configuration, such as this one: https://www.passion-radio.com/ksr400/rallonge-rpsmam-nm-1507.html
* Is 2GB of memory enough to mine?
A hotspot in full activity consumes on average 1GB of RAM memory.

A 4GB or 8GB hotspot will not perform any better than a 2GB hotspot, with the same installation configuration.

The key point is the antenna, its adjustment and clearance.

There is no impact in terms of profitability and ROI between a 2, 4 or 8GB hotspot.
How to get support and help for your M1 miner?
Find the quick start guide and all the online documentation at: https://docs.sensecapmx.com/m1/
For any technical support request, an Official SenseCAP Discord server is available at: https://discord.gg/sensecap
Open a Sensecap ticket directly online here
What are the hotspot warranty conditions?
In the event of a breakdown of the hotspot after the 14-day return period and under warranty, Passion Radio offers a 1-year warranty for this product on defects or quality issues (except in the case of warranty exclusions below), repair or replacement by identical or equivalent equipment, depending on availability, or a credit note or a partial refund depending on its age, if the equipment is no longer available, see our GTC.

The warranty applies in the context of normal use and according to the conditions of use and the specifications indicated by the manufacturer of the equipment. The return costs are the responsibility of the customer, Passion Radio bears the cost of returning the equipment.

Failures or defects resulting from:
Misuse or non-compliance with the rules of use of the equipment
From a projection or immersion of the material in water
Improper hardware or firmware setup, configuration, or installation
Using unofficial firmware
From exposure of the equipment to an electrostatic field, for example thunderstorm, lightning
From a short circuit, reverse polarity, electric shock
The use of equipment outside the specifications and/or frequencies indicated by the manufacturer
Damage caused to receivers due to the emission of a signal near it
Damage caused to the LoRa transmitter or power amplifier (PA) due to incorrect antenna adjustment (ROS) or use out of band specified by the manufacturer or use without an antenna connected to the miner
The total drop or loss of returns and rewards (rewards, withness, crypto HNT)
For outdoor use, in a non-ventilated, non-temperate, non-depressurized box
A breakdown of the Helium network and/or the blockchain
Also, there no 14-day return possible for hotspot already declared on the Helium network, the equipment being then considered as personalized by the user and impossible to resell as is.
What is the Helium network and its uses?
The Helium network (The People's Network) is a decentralized network for the IoT based on the LoRaWAN and Longfi protocols for the 868-869 MHz frequency band, with the aim of providing global coverage for connected objects and LoRa applications, from access points set up by individuals and companies.
In return for the coverage provided to the Helium network, data transfer, and other criteria, the Sensecap M1 hotspot also allows you to mine HNT cryptocurrency and earn rewards in HNT crypto, which can then be converted in euros, dollars or another crypto-currency.
This new crypto-currency has its own course, different from that of Bitcoin and can be converted into euros or dollars, subject to the FIAT tax of 30%, it is also possible to convert its HNT into another crypto-currency, this times without tax.

The objective of the helium network is to provide an alternative solution to telecom networks, to provide economical LoRa coverage for users to enable them to develop innovative tracking and monitoring solutions around LoRa sensors.
Helium network and coverage map
As of January 2022, there are more than 500,000 HNT hotspots worldwide, the map is available here: https://explorer.helium.com/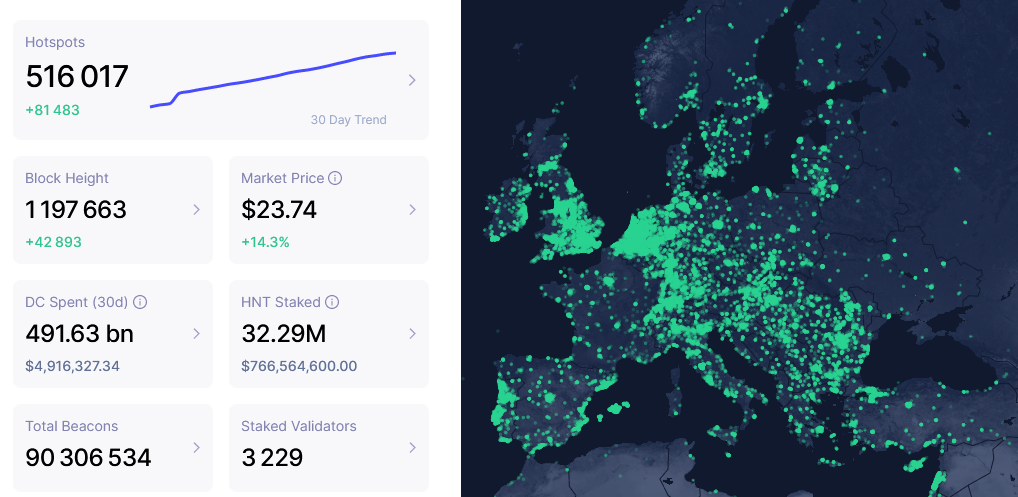 Mapping is in progress, to estimate and verify coverage, available at: https://mappers.helium.com/
Passion Radio is an official distributor of SenseCAP.