Create a quote online
Passion Radio Shop allows you to directly create a quote online, receive it by mail and download it in PDF.
Register here to create your account online (free).
Our quotation module integrates automatic calculation of volume discounts according to the quantity ordered.
The VAT is applied according to the delivery address filled in during the creation of the account.
For company inside or outside EU, VAT don't apply, for indivudual in EU, VAT 20% apply.
For individual outside EU, VAT will not be applied.
How to create a quote
Once the account is created, simply log in then add the material to the shopping cart with the desired quantity and then click on "Transform the basket into a quote".
How to validate a quote online
To validate a quote online, go to your account and then in "My quotation".
Click on "Modify" in front of the estimate to be validated, this will convert the estimate into a basket to be validated by clicking on the "Order" button at the bottom of the cart page.
To get an estimate of the shipping costs, simply add the material and the quantity required in the basket and then fill in the zip code for delivery on the cart page: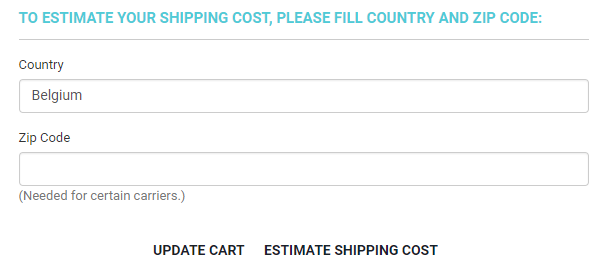 Shipping costs are calculated in real time, 30 seconds to 1 minute may be required to have all the choices available.

If the message "No carrier is available", please contact us.